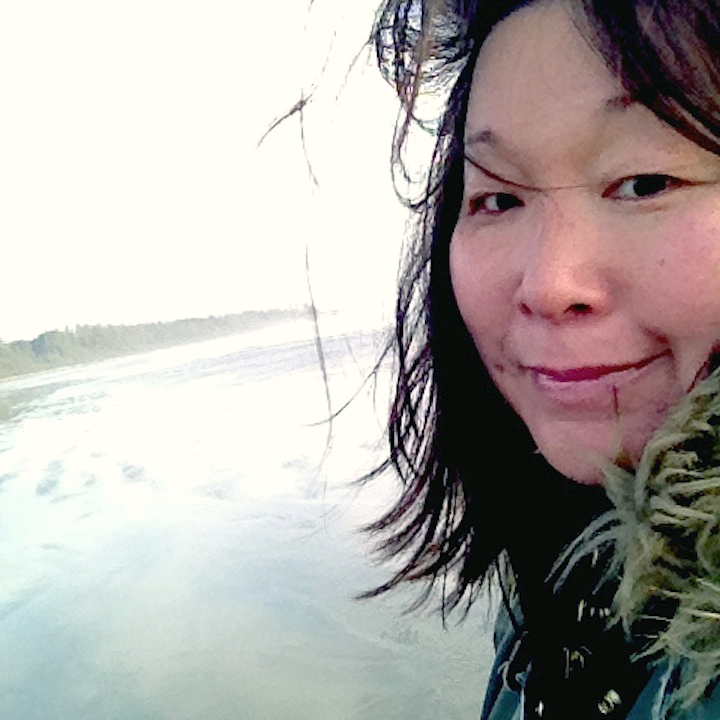 Born and raised in Vancouver, Renay Egami is a visual artist currently based in Lake Country BC on the traditional and unceded territory of the Syilx (Okanagan) peoples. Educated at the Emily Carr University of Art and Design, Renay also studied traditional Japanese art forms on an exchange to the Hokkaido College of Art and Design before completing her Master of Fine Arts degree in Fiber and Material Studies at the Art Institute of Chicago. She is also an Associate Professor at the University of British Columbia Okanagan where she teaches in the Faculty of Creative & Critical Studies, Visual Arts.
Renay's art practice is diverse, conceptually grounded, and employs a wide variety of processes and materials ranging from the impermanent to the enduring and in various combinations of sculpture, immersive installations, and textiles. Her research engages diaspora studies including the immigrant experience and labor, language, memorialization, and traditions relevant to her Japanese heritage. Renay has exhibited her work across Canada, in the US, and in Japan. She is the recipient of several grants and scholarships including the Canada Council for the Arts, BC Arts Council, FCAR: Fonds pour la Formation de Chercheurs et l'Aide à la Recherche – Masters Research Scholarship, Conseil Des Arts et Des Lettres du Québec-Artistic Practice Grant, the Skowhegan School of Painting & Sculpture Full Fellowship – New York, and the Organization of American States Academic Studies Program Fellowship, Washington DC.
As an Artist in Residence on Past Wrongs, Future Choices in May 2023, Renay shares with many of her colleagues a history tied to the Canadian Nikkei community. Her family on both sides hails from Wakayama Prefecture, whence came the largest proportion of Japanese immigrants to British Columbia. Though her mother was born in Steveston in 1929, Renay's maternal family relocated to Japan in 1931, save her grandfather, who remained in Canada as a fisherman employed on the Skeena River by the famed BC Packers company. He was incarcerated at the Greenwood internment camp during and after the Pacific War. Renay's paternal grandfather was also employed by BC Packers before being interned at Kamloops BC. While perusing the Landscapes of Injustice archives during her residency, Renay was confronted with the unexpected discovery of an eighteen-page file detailing her maternal grandfather's experience of internment, including an exhaustive list of the possessions of which he was dispossessed. She says, "Right now I'm still trying to process what happened and considering/reflecting upon the impact this had on my family and intergenerationally over time."
Renay's contribution to Past Wrongs, Future Choices focuses on everyday objects during the internment period. She explains, "I am developing a new work based on a common aluminum teapot that one would find in a Japanese household. Within the context of the PWFC project, I have seen these in archival photographs of internment camp kitchens. While it may have been an object that brought families and community members together in moments of respite, I am more interested in the 'teapot,' a site of resistance and a material witness. Although speculative on my part, I'm considering the teapot as a convening device for discussion and mobilizing ideas for social justice and acts of refusal." Renay's present approach builds on her recent work undertaken during residencies at the Medalta International Artists in Residence Program and the Banff Centre for Arts and Creativity, expanding the scope of her efforts while using the "PWFC project as the container." Says Renay, "it's a structurally complex work that I'm currently figuring out that engages ceramics, images, and gathering primary sources of information through intersecting research practices in the creative and academic spheres."
Renay has welcomed the opportunity of the project to form diverse links across different spheres of Nikkei experience: "The idea of "connection" surfaces most prominently in PWFC, and the residency provided the time and space to unearth the shared histories across borders through the presentations and conversations with other artists and scholars. While I am more familiar with the internment experience within the Canadian and American context, learning more about the dispossession of Nikkei civilians in Australia and Brazil has been eye-opening."  In the coming months Renay plans to continue to thoughtfully engage in the process of developing a work that reflects the spirit of the Past Wrongs, Future Choices project.
This article was written collaboratively by Aaron Stefik and Renay Egami